Please visit
WatchSoMuch.com
for our official address, Most functionalities will not work on unofficial addresses.
Happy Death Day 2U (2019)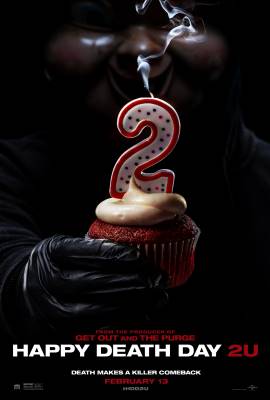 Comedy, Drama, Horror, Mystery, Sci-Fi, Thriller
USA (English, French)
100 min
Bluray

- /10

- /10

3

Updated on 2019 May 12

12,903 Downloads
Director:
Christopher Landon
Cast:
Jessica Rothe

,

Israel Broussard

,

Phi Vu

,

Suraj Sharma

,

Sarah Yarkin

,

Rachel Matthews

,

Ruby Modine

,

Steve Zissis

,

Charles Aitken

,

Laura Clifton

,

Missy Yager

,

Jason Bayle

,

Caleb Spillyards

,

Jimmy Gonzales

,

Peter Jaymes Jr.
Synopsis
Having survived the farcical but utterly life-threatening events in Happy Death Day (2017), the feisty sorority sister, Tree Gelbman, finds herself in the same college dorm, thankful to be alive. However, this time, it's Carter's roommate, Ryan, who claims that he is reliving the same paradoxical day over and over again, as a mysterious paranoid killer in a single-toothed baby-faced mask with a big kitchen knife has made a habit of murdering him. Under those circumstances, a valiant but vain attempt to face the challenge, once more, will send Tree back to square one, trapped in an all too familiar and blood-drenched time loop. How many deaths separate Tree from a truly happy birthday?