Please visit
WatchSoMuch.com
for our official address, Most functionalities will not work on unofficial addresses.
Transsiberian (2008)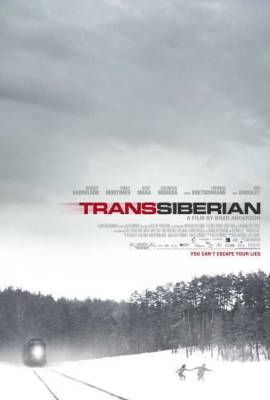 Crime, Drama, Mystery, Thriller
UK, Germany, Spain, Lithuania (English, Russian, Spanish, Chinese, French)
111 min
Bluray

- /10

- /10

0

Updated on 2018 Nov 08

2 wins & 11 nominations.

271 Downloads
Attention!
Enable your VPN before download
Cast:
Woody Harrelson

,

Emily Mortimer

,

Ben Kingsley

,

Kate Mara

,

Eduardo Noriega

,

Thomas Kretschmann

,

Etienne Chicot

,

Mac McDonald

,

Colin Stinton

,

Perlis Vaisieta

,

Mindaugas Papinigis

,

Mindaugas Capas

,

Sonata Visockaite

,

Larisa Kalpokaite

,

Valentinas Krulikovskis
Synopsis
Americans abroad. Roy and Jessie finished a volunteer stint in China. He loves trains, so they go home via the Trans-Siberia Express. There are strains in the relationship, including her past. They meet Carlos, a Spaniard, traveling with Abby, a young American. Carlos keeps close to Jessie, and when Roy is left behind and waits a day for the next train so he can catch up, Jessie and Carlos take a trip into the dead of winter to photograph a ruined church. Carlos may be running drugs, so, later, when Roy catches up and introduces Jessie to his new pal, an English speaking Russian narcotics detective, he's the last person Jessie wants to see. Will the Siberian desolation be their undoing?