Please visit
WatchSoMuch.com
for our official address, Most functionalities will not work on unofficial addresses.
Shadow (2018)
- Also known as "Ying"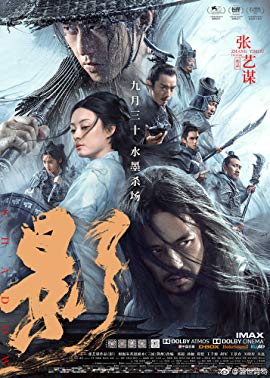 Action, Drama, War
China, Hong Kong (Mandarin)
116 min
Bluray

5/10

5/10

2

Updated on 2020 Jan 01

25 wins & 45 nominations.

11,223 Downloads
Cast:
Chao Deng

,

Li Sun

,

Ryan Zheng

,

Qianyuan Wang

,

Jingchun Wang

,

Jun Hu

,

Xiaotong Guan

,

Lei Wu

,

Bai Feng
Synopsis
Set during China's Three Kingdom's era (AD 220-280). The story of a great king and his people, who will be expelled from their homeland and will aspire to claim it. The king, violent and ambitious, of mysterious methods and motives; his general, a visionary who yearns to win the final battle but needs to prepare his plans in secret; the women of the palace, who struggle to find redemption in a world where they have no place; and a commoner called "Lord of all the world", will be the characters around who turn the inexorable forces of this story.