Please visit
WatchSoMuch.com
for our official address, Most functionalities will not work on unofficial addresses.
The Captain (2017) BluRay 1080p x264 - YIFY [MP4]
Basic Info
Size:
1.9 GB (2,063,337,430 bytes)
Source:
Bluray Rip (Best quality A/V)
Quality:
Video: NA/10 Audio: NA/10 (0 Votes)
Resolution:
FullHD (1080p)
Torrent details
Hash:
5C4C4E5D40873864A1CB6325D5376A3D2BA0BFDF
Upload Date:
1/10/2019 8:41:10 PM (4 months, 1 week ago)
The Captain (2017)
- Also known as "Der Hauptmann"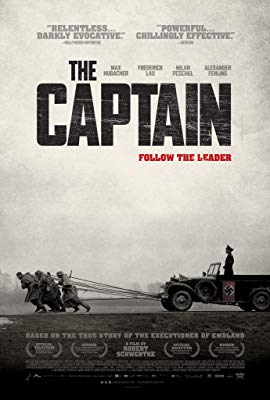 Drama, History, War
Germany, France, Poland, China (German)
118 min
Bluray

- /10

- /10

1

Updated on 2019 Jan 14

22 wins & 19 nominations.

2,287 Downloads
Director:
Robert Schwentke
Cast:
Max Hubacher

,

Milan Peschel

,

Frederick Lau

,

Bernd Hölscher

,

Waldemar Kobus

,

Alexander Fehling

,

Samuel Finzi

,

Wolfram Koch

,

Eugenie Anselin

,

Hendrik Arnst

,

Haymon Maria Buttinger

,

Blerim Destani

,

Miroslaw Dusza

,

Marko Dyrlich

,

Sascha Alexander Gersak

,

Rike Eckermann
Synopsis
The Captain follows Willi Herold (Max Hubacher), a German army deserter who stumbles across an abandoned Nazi captain's uniform during the last, desperate weeks of the Third Reich. Newly emboldened by the allure of a suit that he stole only to stay warm, Willi discovers that many Germans will follow the leader, whosoever that happens to be. A parade of fresh atrocities follow in the self-declared captain's wake, and serve as a profound reminder of the consequences of social conformity and untrammeled political power. Simultaneously a historical docudrama, a tar-black comedy, and a sociological treatise, The Captain presents fascism as a pathetic pyramid scheme, a system to be gamed by the most unscrupulous and hollow-souled.